PRODUCTION
The company mainly manufactures visual systems for outdoor and indoor advertising. The machinery park constituting an integral part with the skills of our employees, who have years of experience in the industry, forms our main asset enabling our offering a product of the highest quality at an optimum price.



JETRIX KX7
The new JETRIX KX7 series for UV printing with a working area of 250×300 cm is a robust solution characterized by high printing quality and high speeds. It uses a new generation Konica Minolta 1024 ( 6 pico liter) print head that offers speeds of up to 60 m²/h and a maximum print resolution of up to 1440 dpi. It is also equipped with a new roll-to-roll system with a width of 219 cm. The printing system is realized by 14 printing heads in CMYK colors, additionally white and primer (for printing on glass or other materials requiring an absorbent surface).
The most unique feature of the model is the new Jetrix Primer UV ink – with enhanced durability. The patented ink is specially designed to guarantee maximum adhesion to a wide range of substrates, such as glass, acrylic and metal, without the need for a primer.
FLORA solvent plotter
FLORA solvent plotter is a modern large format printer equipped with the latest generation of Fujifilm (Spectra) StarFire 1024SG – 25pl printheads. The used technology guarantees both very high quality of printing and very high speed (up to about 200 square meters per hour in the 4-head version). The printer is equipped with a media feeding system that differs from most Chinese solutions. The material unwinding system allows the use of heavy material rolls (up to 120 kg). The stability of the media feed can be further increased by using additional (optional) roll adapters. Large diameter roll adapters allow stable printing on BBS paper and films. The machine is equipped with a system for collecting printed material as standard. FloraXtra 320G is equipped with an innovative system of media heating before and during the printing process which allows for trouble-free heating of the table under the print heads and ensures very stable temperatures over the full width of the printed material.

Roland AdvancedJET
Roland AdvancedJET solvent plotter is the fastest plotter in its class and an ideal tool for high-volume production of advertisements and urgent orders. AJ produces billboards, banners, vehicle graphics with a maximum speed of 90 m²/h. The 72mm wide printheads with 510 nozzles and a droplet size of 35pl deliver great quality at a print speed of 45m²/h.
Maximum resolution of 720 x 720 dpi and printing in 6 CMYKLcLm colors ensures great colors and smooth tonal transitions. The ink is abrasion and alcohol resistant. To ensure trouble-free operation on a variety of materials, the printhead can be easily adjusted to three positions – low, medium and high. High ink density ensures relatively low printing costs.

Roland XJ 640
We own three Roland SOLJET printing plotters, which are unrivaled in the 1.6 m – 1.8 m machine class. XJ is a machine designed for the most demanding printing plotter users. Production plotter with the highest quality available in the market. Ideal for printing display graphics, banners, posters, vehicle graphics and much more.
Available in two widths, 64 and 74 inches, printing in six colors (CMYKLcLm) or four colors (CMYK), the XJ Series plotters are built on updated SOLJET technology to achieve exceptional quality at higher print speeds. With a maximum print speed of 42.6 m²/hour, the XJ is designed for indoor and outdoor graphics including banners, signs, vehicle graphics, backlit graphics and more. Ecosolvent plotter can print on many materials such as film, banner, paper, fabric. The XJ Series is equipped with an automatic maintenance system that saves ink and time, reducing overall costs.

CNC Energy 4121
Industrial CNC Router Energy 4121, is designed for 3D and 2D milling of various materials which can be machined, with particular emphasis on such materials as: composites, plexiglass, PVC, ABS, Teflon, polyamide, resin LAB, PRO LAB, aluminum, brass, mdf, hdf, plywood, chipboard, wood, etc. In addition to the spindle, the plotter is also equipped with a pneumatic oscillation knife, which allows you to cut materials such as PVC, foam, leather, cardboard, corrugated cardboard, etc. The oscillation knife significantly expands the production capacity of the machine. The knife is installed next to the milling spindle along with a 45-degree cutting knife. The system with active creasing wheel, allows you to perform the entire carton production process in one uninterrupted production cycle.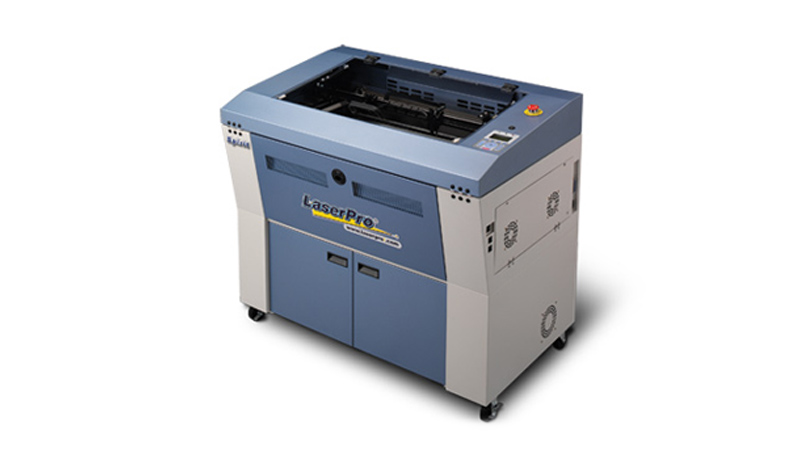 LaserPro Spirit GLS
LaserPro Spirit GLS is the flagship model among multipurpose laser plotters, with a large working field of 960×610 mm. Thanks to the linear bearing on the X-axis, the productivity of the device has been increased – engraving speed up to 2000 mm/s, functionality and operating comfort have been increased by using: SmartBOX – ventilated and freely configurable cutting box, SmartLIGHT – work area lighting, SmartMemory – non-volatile project memory, SmartPIN – removable Auto Focus system sensor. A new control panel with enhanced control software has expanded the application possibilities for Spirit GLS machines. Standard 2″ lens, optional 1.5″, 2.5″, 4″. These devices are used for, among other things:
engraving and marking on coated or anodized metals,
engraving and stamp cutting in rubber,
engraving and cutting of plastics – plexiglass, acrylic and others,
engraving on pens and other promotional or commemorative gifts,
engraving key rings, door numbers, key tags, ID cards and other name plates,
engraving and cutting wood and cardboard for diplomas, construction elements, mock-ups,
engraving interior information system plates for corridors and rooms in offices, banks, factories, etc.,
engraving data plates on coated or anodized aluminum sheets,
engraving description plates for control cabinets, switches, valves,
indestructible marking of expensive equipment, parts and other items requiring permanent marking,
cutting plastic and wood structural elements for the production of architectural models and advertisements.

Bending machine GT1004
GT series thermoplastic bending machines are excellent machines for assisting plastics processing. They are built on our years of experience in the field. The GT1004 bending machine allows you to process most thermoplastic materials such as: PMMA (plexiglass), PC (polycarbonate), PS (polystyrene), PETG (polyester), PVC (polyvinyl chloride), etc. The bending machine can also weld some plastics. The process of heating the material is carried out by means of a heating element in the form of a resistance wire. The GT1004 Plexiglass bending machine uses an innovative process of controlling the parameters of the heating process by adjusting the power of the device and the time of heating the material. The device operates at a voltage safe for the operator, i.e. up to 24 V. The GT1004 bending machine has been designed for users for whom such features as efficiency and quick configuration of the device for a specific order are important. The advantage of the GT1004 over others is the fact that it uses four heating zones, which directly affects the high efficiency of the device. Each heating strip has a possibility of separate regulation of working parameters (heating time, power). An important advantage is the fact that the slats are movable, which allows us to arrange them freely on the work table.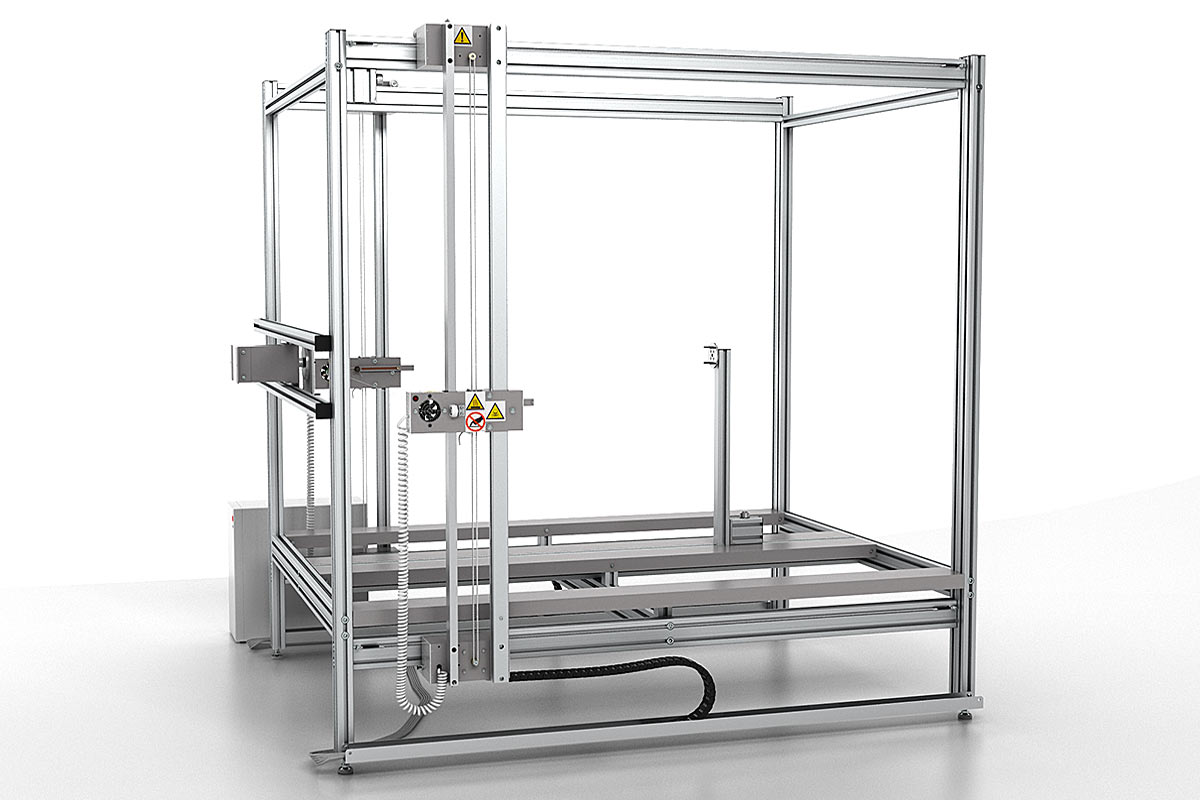 ThermoCut Pro thermal plotter
A thermal plotter is a computer-controlled device that uses a titanium resistance wire heated to approximately 800°C. The heat emitted by the wire causes the material in its immediate vicinity to vaporize, resulting in a "cutting" effect. Digital control of plotter work parameters, combined with the ability to create your own libraries of materials makes the cut elements exceptionally precise. Using the many finishing techniques available allows you to create the illusion of a variety of materials. The resulting designs are very visually appealing and affordable.
THERMOCUT thermal plotters allow you to cut any spatial objects in materials with a density up to 60 kg/m3 and subject to thermal treatment, such as: polystyrene, styrodur, polyurethane foam and others.
Summa cutting plotter
These plotters, thanks to the possibility of installing the new OPOS X system, are ideal for creating all kinds of stickers and labels in the contour cutting process. D series plotters are a combination of T series plotter design with the head as in SummaCut plotters.
The enhanced marker reading system handles any type of paint/ink and reads laminated graphics with ease. The maximum cutting area is 138 cm.
MK 1600 Plus Laminator
The most popular laminator of this class in Poland. Possibility to laminate from roll to roll, thickness of laminated product up to 23 mm – it means that all hard materials up to this thickness can be laminated, moreover laminator has possibility to heat up one of rollers to 120 degrees, what can be used for laminating printouts on paper, in case of laminating printouts on film we heat up the rollers to 40-50 degrees, then laminate becomes plastic and bonds with film very well, eliminating any air bubbles. Working area up to 1.52 m (media up to 1.60 m may enter).