Car Wrapping
We have been wrapping cars for several years and we are one of the first advertising agencies in Białystok to provide a comprehensive service in the scope. Trained and certified teams work practically every day to achieve the desired effect on our customers' car bodies. The purpose of the wrapping can vary. From marking the car with your company's contact details, through color unification of company fleets and at the same time obtaining an advertising effect, to creating a new image of one's own car by a new body styling.
Car Wrapping Białystok
For application we use only films from reputable manufacturers, such as 3M and Oracal, as well as brand-name tools, chemicals and wrapping accessories. To protect printouts, we use UV laminates (film and liquid), which protect applications against exploitation effects and external conditions.
The added value of wrapping the car body is protecting the paint from fading, which can be clearly seen when the film is removed after a few years. The paint color remains unchanged.
The car delivered to our company, must be clean and washed without waxing, technically sound and free of corrosion. We thoroughly clean and degrease the car body and disassemble some elements, such as: trims, mirrors, handles, etc.
During the application we follow the guidelines of the film manufacturers, combined with the experience of applicators, we obtain the satisfaction of our customers who return with further realizations. As a result, our company have wrapped several thousand vehicles.


The simplest in form, execution of simple graphic signs and inscriptions by means of plotter film. Such a car marking is most often chosen when we want to obtain a quick and clear message with a company contact details.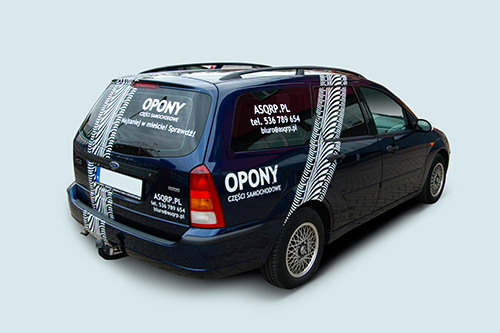 A very impressive method using high resolution printed graphics. Appropriate design tailored to the style of your car and its purpose, will transform your car into a mobile advertisement. For such applications cast films are used with additional protection of UV laminate (recommended and dedicated film or liquid laminate).
A mixed technique that allows you to use the two techniques. For such applications, we use cast printed film and/or polymer film. It depends on the depth of the body embossments. Graphics are also protected with UV laminates.
Change of the car color means that you do not have to be tied to one paint scheme imposed by the manufacturer. Applied one color film or a composition of several can completely change your car's appearance. Such a color tuning effect can be achieved by using glossy and matte, metallic or pearl effect films. Additions can be finished, for example, with a structured carbon film. This wrapping technique requires a lot of precision and time to achieve the desired effect.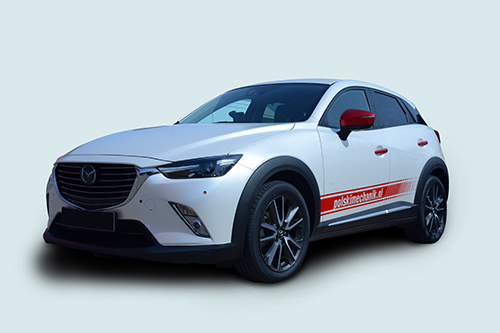 Visit our office and choose the right option to wrap your car – Car Wrapping Białystok
Each implementation is done with the utmost care. All operations, from the design, printing to the application are performed in our facility in Bialystok. We focus on accuracy and precision, which results in customer satisfaction, who feel safe entrusting their car in our hands.